For years, I worked in the financial team of a large AEC firm. We had over twenty people running the accounting functions that kept the business ticking over. If I reflect on what actually made a difference at the end of the day, I believe there are really only three things to focus on to ensure a thriving practice:
Invoice early and collect debt quickly
This article will cover the third item. Follow the links above to read about the other focus areas.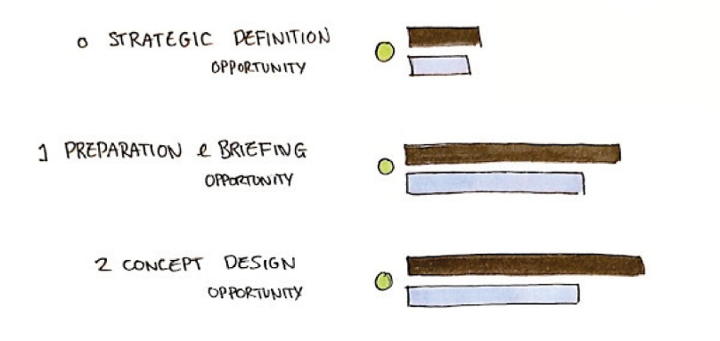 People who owe us money are called our debtors. People whom we owe money to are called our creditors. In the real world, there will always be a delay between when we issue an invoice and when it gets paid. The longer this takes, the more spare cash we need to have in the bank in order to meet our monthly outgoings (e.g. rent and salaries).  
This spare cash is referred to as working capital. It's the amount of money that we need to bridge the gap between our debtors and creditors. We should always aim to need as little working capital as possible to survive and grow our business. 
Accountants will be able to tell us very easily what our working capital position is. They will run a report that measures our debtors and creditors. However, professional services firms, particularly built environment ones, have a hidden working capital requirement that we cannot ignore. This is because we almost always do a lot of work on a job before invoicing the client, sometimes even before a fee has been agreed.
There are two main areas where this working capital requirement manifests itself:
bids / competitions /risk work: costs incurred when delivering a project before it is won (or lost) still need to be paid by our practice long before we might invoice (or not) on the job
milestone-based billing: most construction projects are delivered in work stages, with an associated fee for each stage. It may take many months to complete some stages, with our practice having to fund the costs incurred up to the point that we are finally able to raise an invoice
Practically, for an architectural firm, this means that we need to invoice early and chase our debt as hard as possible.
Firms that trade in physical goods (e.g. Tesco) can manage working capital by delaying payments to suppliers. Architects and Engineers can't really delay paying staff, which makes up the bulk of our expense bill, and expect them to stay working for us. 

Here are the steps you can take to ensure that your hidden working capital is kept under control.
1. Track how much you have spent on every project since it started, even if it is just an opportunity or a bid
2. Measure how much you have invoiced on each project since it started (could be zero)
3. Subtract 2 from 1 for each project, this is how much you have spent on the project without being compensated 
You should decide what the total acceptable uncompensated expenditure for your practice is - both on a per-project and a cumulative basis - bearing in mind this is at least how much extra cash you will need to have in your business to keep working on these projects. 
Make a point of identifying, on a monthly basis, the largest uncompensated projects as well as the fastest-growing ones. These are the projects that need to be invoiced as soon as possible. 
Finally, just as you may write off bad debt from time to time, you may choose to periodically write off the hidden working capital against bids that never materialised.
Be brutal on non-payment of invoices
Getting an invoice out the door is the first step in improving cash flow. But the most important step is to ensure that the invoice is paid.
A friend of mine worked at a provider of 'invoice financing', i.e. if you demonstrated that you had issued invoices to your clients, they would transfer, for example, 95% of the invoiced amount to you immediately and keep the 5% as their fee when the invoice eventually was paid. The only industry that they did not accept customers from was the construction industry, as they had learnt the hard way that the levels of non-payment of invoices were completely beyond most other sectors.
So, it is especially important for Architects and Engineers to actively chase payments on invoices. Some tips on ensuring that your debtors book is kept under control include:
Empower the team - it is common for ownership of the debtors book (particularly in medium/larger) firms to sit with an individual specialist. Sometimes it is better to make everyone aware of the unpaid invoices on a project so that they can all assist in putting pressure on the client for payment.
Good Cop / Bad Cop - in contrast to the above tactic,  if we feel that the discussion about unpaid invoices might sully the good relationship we have with the client, it may help to get a third party to be the 'bad cop' and send a demand for payment. We can then later 'blame the system' if the client feels aggrieved.
Stop working on projects with unpaid invoices - this feels like a drastic measure - given how we always aim to please our customers - but it can be a very effective way of ensuring payment is made. At the end of the day working for a client who doesn't pay is the same as us taking out unsecured debt to pay the salaries that the unpaid invoices should have paid. Why should we be the financier of the project?
Stop working for clients that don't pay - if your practice does a lot of repeat work, and a client has a bad reputation for payment, stop doing any new projects for that client.
Keep focus, become more profitable
I hope you have enjoyed this series of articles about how to make your practice more profitable. There is a myriad of administrative tasks to running an architectural practice, finance is just one of the dozens of other important issues vying for your attention. We hope that you have learnt that by focusing on the 3 key drivers of project profitability you will be able to "see the woods from the trees" and take your practice to the next level (or at least avoid insolvency!)